Before DBM was conceptualized and officially launched in March 2017, the thought behind it lived in the design projects and workshops being conducted by Maulshree, founder DBM from 2010 to 2016.DBM with its philosophy to imbibe the age old traditional craft styles and practices to develop products of beauty and utility suiting the modern lifestyles of today gets its aura from the name it carries in every bit of its produce-"Maulshree"
And thus, any craft lover can find out from where the designs and philosophy in the product and service range of 'Designs By Maulshree' gets its flavour from.The character of the entire range, the look of the products and the aura they carry can be clearly felt from the name "Maulshree" which is the sanskrit word for the mulsarry tree, found in Indian subcontinent only
.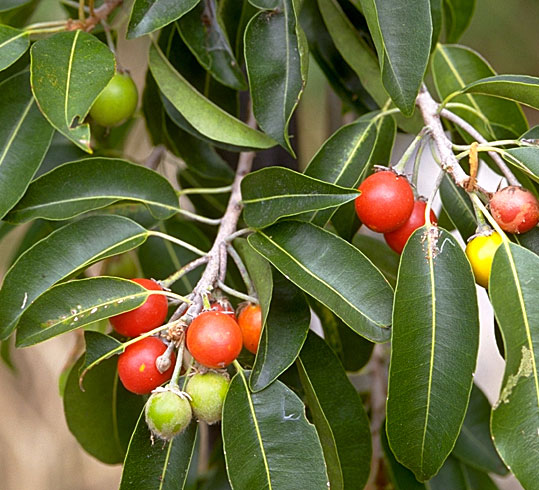 Mimusops elengi (Maulshree Tree) has small shiny, thick, narrow pointed leaves and is a prized ornamental specimen. It was extensively used by the Mughals in Delhi and Agra as its neat crown lent itself to formal planting arrangements.
Thus, the first feature of DBM designer products is their nature friendliness. Subtly catering to the demands of environmental consciousness in the market, they help buyers breathe in the natural aura they carry when at office or home.
Being an evergreen tree that provides cool shade during summers, invigorating aroma through its tiny cream colored flowers, deliciousness in the form of fruits it bears and of course comfort, convenience and good health through utilities and medicines made out of its timber, Mulsarry tree is a wholesome pack of goodies gifted to us by mother nature.
DBM second best feature is its strong ties with the traditions and culture of Indian subcontinent. Its product range has its roots in the grandeur beauty of ancient times and intricacies involved in traditional craft skills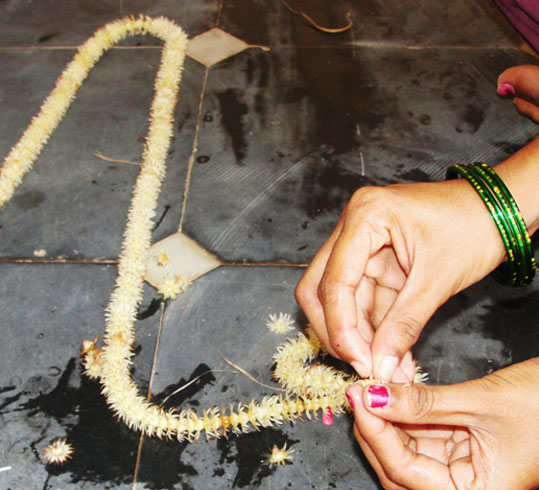 Flowers of Mulsarry tree being woven into a garland which is used as an offering to deities in temples and shrines. Mulsarry flowers are small, star-shaped, yellowish white in color, with a crown rising from the center. Full of refreshing fragrance they fill the environment with long lasting aroma even after days of falling on the ground.
Embracing all in one feature of the maulshree tree, 'Design by Maulshree' is a complete design service platform that not only offers its designer product ranges but consultancy and support for other important design activities like documentation, cluster development, skill enhancement training and design workshops. So, Be it development of an eco-friendly , new range of bamboo product for interiors with traditional artists in culturally rich interiors of India or customizing stylish corporate gifts for professionals in a company event; training differently abled artisans in a NGO to produce market ready masterpieces of traditional art or documenting the produce of unknown, unexplored talent and working on various design aspects, DBM can take care of it all.
Design Projects DBM has worked on
Natural Fiber Craft (Sisal) in Dehradun, Uttarakhand
Bamboo Craft in Kotdwar, Uttarakhand
At DBM the art pieces reverberates "We mean every design!" and the Vision and mission
the design centre lead by Maulshree Mittal says it all in words too..
To develop products, artisan groups, craft form and the associates aspects of design in thinking and in action, bringing forward ideas, prototypes, skills inspired by nature that become a part of "beauty" and "utility" in the life of people without harming environment and imbibing in it the richness and aesthetics of age old traditions that not only empathizes with but also defines modern day lifestyles. DBM aims to always live by the standards of design thinking using 'art of craft' to frame problems, develop, enhance and use the right craft skills that take forward best ideas from past and the present to meet the requirements of the future in the true sense.
To pass on the legacy of Indian crafts and traditions to the next generation of artisans through design skill
development programs, traditional handicraft reviving initiatives and development of product ranges that is
eco friendly and reflects the richness of ancient times.
To explore the hidden handicraft talent possessing design acumen worth nurturing to develop products that take the art and their self esteem forward to become an inspiration for others in the field in terms of redefining and reinventing "aesthetics " and "utility" in the 'art of handicraft.
To get eco friendly handicrafts and products find a special place in the daily life of individuals, thus enabling
people to opt for 'green' products instead of unhealthy, polluting utility or decorative products.
To promote Indian craft, craftsmanship and the traditions associated with them across the globe.
To become the number one choice for buyers that look for customized handicrafts for any purpose, occasion, place or event.